Collaborations
CyBear has worked together with multiple online learning schools. We created a English spoken training serie for Pluralsight and multiple Dutch spoken training series for Everlearn. Although these current training series cover the basics of Cinema 4D and Adobe Illustrator, you can expect more advanced training series in the near future.

Everlearn is a Dutch online training platform with a wide collection of Dutch spoken tutorial series in creative software.
The ultimate Cinema 4D advantage bundle
The ultimate Cinema 4D advantage bundle for learning 3D modeling and animation.
Cinema 4D is the professional program for creating 3D objects, animations and images. Maxon Lead Instructor and certified trainer Lars Scholten teaches you to use the tools of Cinema 4D in four training sessions to make perfect models and animations with Cinema 4D R19. These four trainings deal with the four important elements of Cinema 4D: modeling, materials and textures, lighting and animation and simulation.
With almost 18 hours of video lessons and 8 GigaByte of practice material, this is the ultimate training bundle for working with Cinema 4D. You start this training bundle with Modeling. You will learn how to make perfect models from simple to complex and organic polygon models. In the second training module you learn to give your models an appearance with Materials and textures. You learn the difference between these two and how you can make natural materials such as glass, water, textiles, metal and more. The third module teaches you everything about illuminating your 3D models and scenes. From three-point light setups and realistic lighting with Global Illumination to visual effects with visible light. Everything is discussed to put your models in a beautiful light. The last module gives you the possibility to bring your 3D models to life with animation and simulation. You learn what a keyframe animation is. How to run a character with a walkcycle. And of course how you can simulate natural laws such as gravity, wind and the difference between hard and soft objects. In short, this Cinema 4D bundle offers everything to make the most beautiful 3D graphics and animations.

Snel aan de slag met Illustrator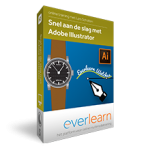 Design logos, infographics, and visuals in this Adobe Illustrator course. Since the beginning of desktop publishing and digital design, Adobe Illustrator has been the ultimate program for designing beautiful typography and logos. Adobe Illustrator is also the first choice for illustrators and designers for web design and popular infographics. Now you can also quickly learn beautiful drawings and visuals with this online Adobe Illustrator course.
In this ultimate Adobe Illustrator course you will learn from Adobe Certified Expert Lars Scholten. With more than 5 hours of video tutorials, you quickly learn to understand the user interface and work with all major drawing tools. Lars has the gift to explain the Pen tool, which is often difficult to understand, easily and comprehensibly. Using fun and appropriate examples you learn to copy existing drawings and design your own drawings with the Pen tool.
In addition to the important Pen tool, you will work with colors, color gradients and swatches in this Adobe Illustrator course. You do this in the color systems CMYK and RGB for printing and the screen. You learn to add typography and to adjust or deform letters for your own designs. Together with Lars you work on many exercises. You learn how to merge shapes, drawings, shape, scale, rotate and more. After completing this training you also have the knowledge to deliver your artwork professionally to a printer. This way you know what bleed, crop marks and registration markers are and how you can add them to your artwork. Moreover, you can save this in the correct way in a PDF file for the printer. In short, this is the ideal Adobe Illustrator course for anyone who wants to learn fast and good design with this beautiful program.

Pluralsight

Pluralsight is a well known online training platform who cover many talented trainers and a multitude of professional training courses.
Using Splines in Cinema 4D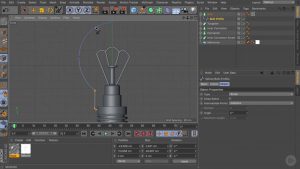 Splines are some of the most powerful objects in Cinema 4D, let alone the most versatile. They can drive everyday tasks like modeling and animation; but did you know you can also use them as textures? In this course, Using Splines in Cinema 4D, you'll learn how to use the spline object in Cinema 4D. First, you'll explore the many types and anatomy of splines. Next, you'll dive into how to use them for modeling and animation. Finally, you'll learn some other less conventional yet powerful ways that use splines in practice. By the end of this course, you'll have an intimate understanding of splines in Cinema 4D, and you'll know how to begin implementing them to improve your own Cinema 4D production pipeline. Software required: Cinema 4D.
Click here to visit Pluralsight