About us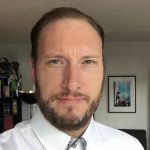 Lars Scholten (CyBear) is a freelance CG artist and trainer based in Amsterdam. He works close together with other freelancers on joint projects for clients like KLM, Liberty Global and several Dutch TV networks.
He is specialises in modeling, rigging and rendering. You can see some examples in the portfolio section of this website.
Training
Beside his own freelance projects, CyBear also provides training. This is definitely not just a side job. CyBear started training in 2003 and has more then 3000 hours of classroom experience in +10 years of CG training.
With more then a decade of training experience, Maxon appointed him in 2009 as Lead Instructor for Cinema 4D in the Netherlands.
So what happened in the six year gap between '03 and '09? Since CyBear was an early adapter, there was no certification or training program available until 2009. So he developed his own in the shape of the 3D Producer course at the College Of MultiMedia in Amsterdam.
CyBear is closely connected to MAXON, the developer of Cinema 4D. For MAXON he provides masterclasses and presentations on trade shows and events like IBC Playgrounds Festival and AV Festival.
Besides personal training, he often shares his knowledge on 3D and visual effects on trade shows, events and short tutorials on Vimeo.
For more information about CyBear's credentials, check the LinkedIn page.
Contact
CyBear
Palmstraat 63
1015HP Amsterdam
+31 653539764
Please use the form to contact us for inquiries.